Are you thinking about buying a car in Australia?
Before you buy a used car and make rush decisions, why don't you take some time to do some research? Did you know that, in Australia, you have access to different websites and services to get assistance when purchasing a car?
In the following section, we will introduce a few recommendations whenever you are buying a car as an International Student in Australia. first, we will break down a list of options to help you narrow down your options. Second, we will be talking about the different avenues available for you to purchase a car in Australia, including direct sale, auction, and dealer.
How do I pick my perfect car?
Narrow down your options with the following aspects
1. What's your budget? 
Calculate how much money you have available to spend and narrow down your options accordingly. If you do not know much about automobiles or their worth, check out  redbook.com.au. This page tells you how much the automobiles are worth based on their year and model.
2. What do you need the car for?
 What will be the primary car' use? Where would you be driving? how long will be your commute? is there parking available? Based on your answers, consider car sizes and petrol consumption.
 3. Let's talk about safety standards. 
Did you know you can examine car safety ratings that are based on real-life accidents? Check out used car safety ratings to get all information about your car model and its related safety rating. 
4. Security.
Is it easy to steal or break into a car? What safety features does the vehicle have? Check the National Motor Vehicle Theft Reduction Council car security scores for more information on car security.
5. Insurance Costs.
Insurance costs differ from one model to the next one. It is recommendable to get quotations from different providers and the different models and automobiles you are considering, so you can opt for the most cost-effective and secure alternatives. 
6. Environmental impact
Analyze how costly your options are for the environmental impact as well as for your pocket. Examine the vehicle's fuel usage and emissions. The Green Vehicle Guide is a good starting point. 
7. Dealer, auction, or private sale.
Decide where and how you want to buy the car. See what we have to say about these options further down in this article.
7. Regulations.
Check the rules in your state or territory for purchasing and selling used cars, including how to protect yourself from potential scams and even, making sure the car is free of debt.  An important consideration is if the car is up to date on Registration Number (REGO) and when was the last time the vehicle was mechanically checked. Enquiring all this information could save you from paying thousands at the end of the day.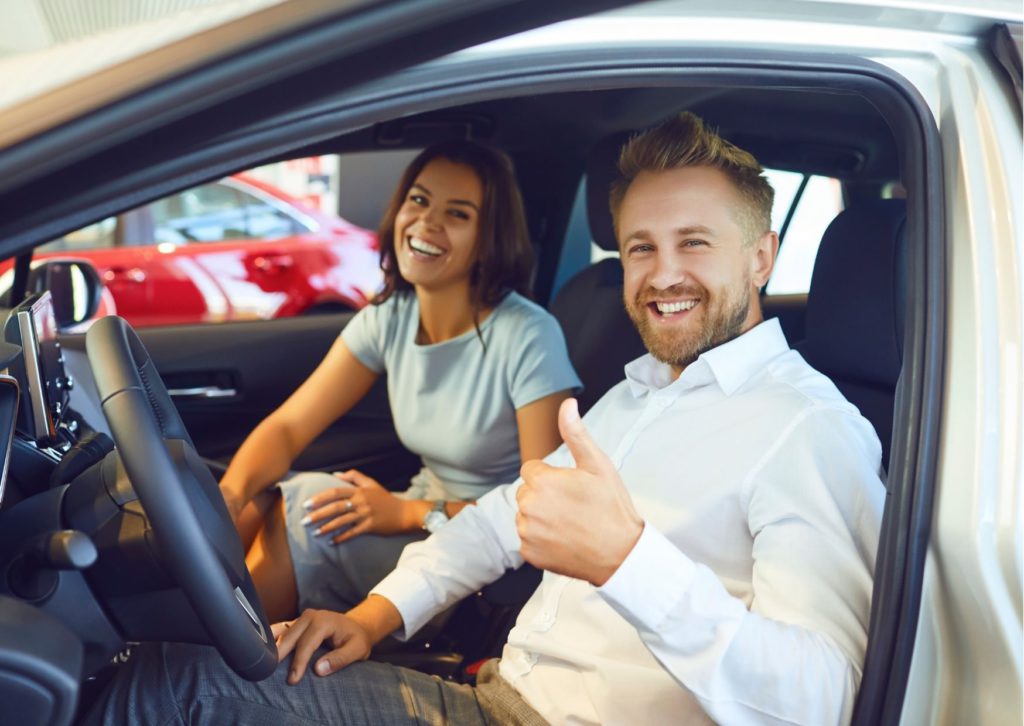 How do you want to buy a car?
Let's explore all the options in detail.
Direct Purchase:
If you are hoping to get a car from the previous owner, I recommend you to explore different online portals, such as Facebook Market place. It is strongly recommendable to inspect the car, but if you don't feel comfortable checking the car by yourself. Your  state's motoring organisation can arrange for an impartial professional evaluation.
If the vehicle is in good shape and meets your aesthetic needs and requirements, make sure:
 it is debt-free.

The seller is the owner – Ask to see their driver's license and compare the details with those on the registration papers.

Match the VIN number, date of manufacture, engine number (which is marked on the engine itself), and number plates with those on the registration papers. If discrepancies, ask for further information.

Check if you should be receiving a certificate of roadworthiness. In some states, the seller is required to provide it. 
Benefits of buying a used car privately
Buying a car privately is usually the cheaper option. However, you will have to rely a lot more on your own judgment as you won't get any protection like a statutory warranty.

You can get the car inspected by your state's motoring authority if you're not very knowledgeable about cars. 

Check if there's any money owing on the car by calling the vehicle title registry or REV's in the state the cars registered in.
Benefits of  buying  a car in a private auction
At a private auction, you might be able to pick up a bargain but you really need to know about cars and what they're worth.Please consider that, 
You usually can't arrange for an inspection or even a test drive at auctions.

You'll be relying purely on visual checks.

Auctions vary from state to state so you'd need to check with the auction house about warranty and money owing.
Buying from a Dealer:
If you buy a car from a dealer, the dealer is required by law to guarantee that the vehicle is debt-free. Check the national Personal Property Securities Register (PPSR) for private sales – this has superseded several existing asset registers around Australia, including the Register of Encumbered Vehicles (REVS). Make a note of the VIN (vehicle identifying number) or chassis number. A small price of a few dollars is charged per search, which can be paid by Visa or MasterCard.
The advantages of purchasing from a dealer
Purchasing a used car via a dealer is typically more expensive than purchasing one privately, although there are certain benefits:

They are required to issue a statutory warranty in some states and under specific situations. Parts like the radio, air conditioner, and batteries are frequently excluded, so make sure you understand what is and isn't covered.

They must ensure that the car is free of debt.

They generally have to put a form on the dashboard  or windscreen of the car. It  provides some basic information, such as the year of manufacture, odometer reading and warranty details.

With the dealer, you can trade in your old car.
Are you satisfied with the car you have selected?
Dont sign Anything unless you are entirely satisfied with the automobile and the price.
Remember to Inquire about the vehicle's history, such as how many previous owners it has had. Has it ever been in a car accident? What is the approximate mileage? What is the cost of filling the tank? Is the vehicle up to date in terms of registration and insurance? Is it equipped with any safety features? and anything else that could give you peace of mind.
Aspects to consider after the Sale
After you've purchased the automobile, buy insurance before you drive it anywhere. 
Transfer the registration to your name. You usually have to do this within a few days of buying the car.