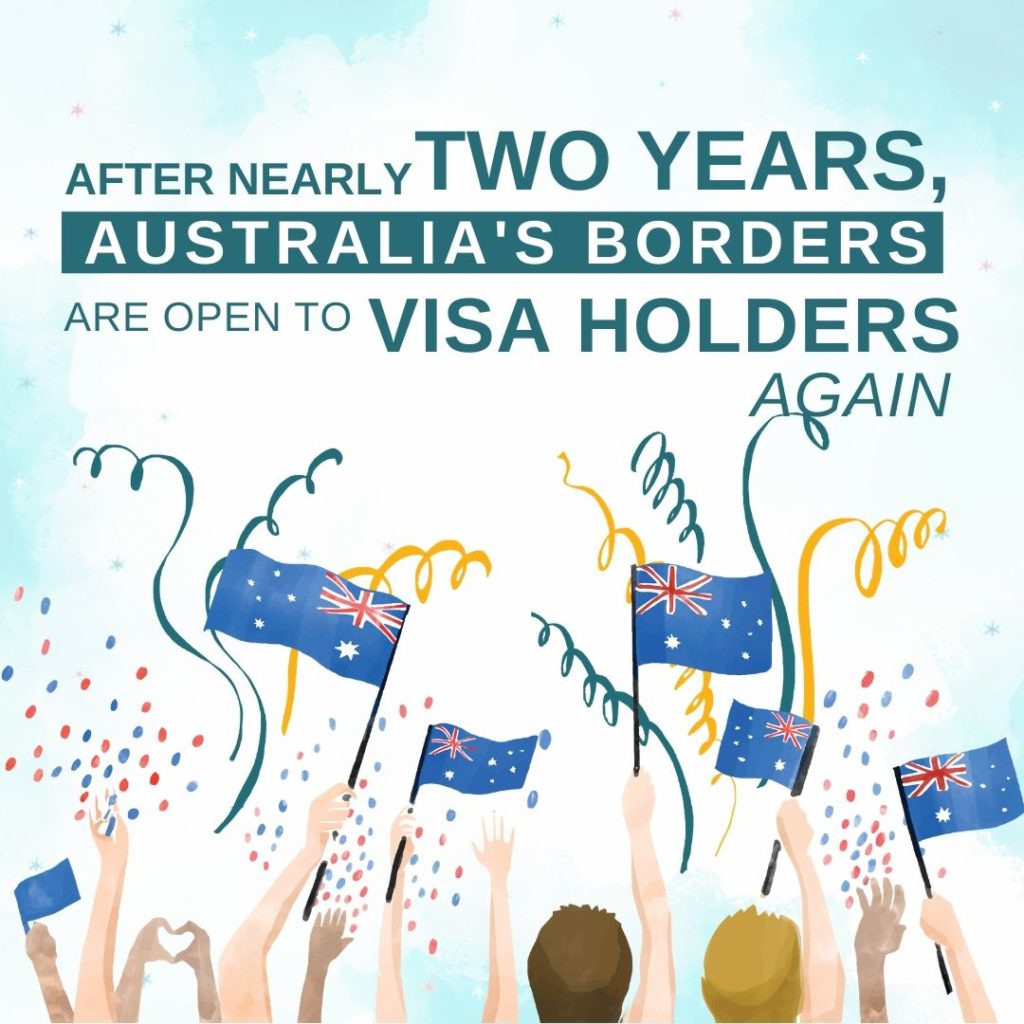 From the 15th of December, fully vaccinated eligible visa holders can travel to and from Australia without an exemption. Quarantine requirements would depend on the state or territory of arrival. Please visit the state or territory government website for information about the current quarantine requirements that apply in that jurisdiction.
If you need to transit through a state or territory on your way to your destination state or territory, you may also need to take the domestic travel restrictions into account.
What are the Requirements
to travel to and from Australia?
1. You must have a valid eligible visa to travel in and out of Australia.
International Student visa (500), Temporary Graduates (485), Work and Holiday visa (462), Working Holiday visa (417), and Temporary Work (400, 403) are part of the eligible visas. For the whole list please visit Immigration Department Website here.
2. A negative ❎ PCR COVID-19 test result is required for travelling to or transiting through Australia. This test must be taken within three days before your flight
3. Be fully vaccinated with any of the Therapeutic Goods Administration (TGA) approved vaccines unless there is a medical exemption. 
To travel to Australia, you must have taken two doses 💉, with not less than 14-days apart, of any of the Therapeutic Goods Administration (TGA) approved vaccines. This includes AstraZeneca, Pfizer, Moderna, Sinovac, Bharat Biotech Covaxin and Sinopharm BBIBP-CorV. If you have taken the Johnson & Johnson vaccine, you only need to show one dose.
Seven days must have passed since the final dose of vaccine before you can travel into or out of Australia.
Mixed doses count towards being fully vaccinated as long as all vaccines are approved or recognised by the TGA.
🚨IMPORTANT: If you have not been vaccinated with the above doses or schedule, you do not meet Australia's definition of 'fully vaccinated.' This includes instances where the dosing schedule or vaccine eligibility differs in your country of origin. If you have received non-TGA approved or recognised vaccines, you will not be treated as a vaccinated person for inbound travel to Australia. 
4. Present a COVID-19 vaccination certificate from a health authority or a valid Medical Exemption
If you were vaccinated in Australia and aim to depart and return to Australia, you must provide an International COVID-19 vaccination certificate (ICVC). Get it through the MyGov app.
Travellers vaccinated in other countries must present a vaccination certificate issued by the country they were vaccinated in. These certificates should be in formats that meet the following criteria:
issued by a national or state/provincial-level authority or an accredited vaccination provider
written in English or accompanied by a certified translation
containing at a minimum:
a. name as it appears in the traveller's passport
b. either date of birth or passport number
c. the vaccine brand name, and
d. the date of each dose or the date on which a full course of immunisation was completed.
👨‍⚕️Medical Reason or Travel Exemption
If you cannot be vaccinated for Medical Reasons, you must provide a medical exemption. Only eligible health professionals can report medical contraindications to the Australian Immunisation Register (AIR). Please note that you must apply for a travel exemption if you cannot demonstrate that your medical contradiction has been reported to the AIR.
5. Australian Travel Declaration,
Before you travel to Australia, you should complete the Australia Travel Declaration (ATD) at least 72 hours before your departure for Australia. The ATD collects your contact details in Australia, flight details, travel history, vaccination information, quarantine requirements and health status. Please make sure you have the following information ready before you start your declaration :
passport details
evidence of vaccination
trip information
14 days travel history
destination details
contact details in Australia and abroad
The ATD cannot be modified after being submitted. If there are any variations on the flight, health status, or you have made a mistake, you must submit a new Australia Travel Declaration and delete the previous application. 
As stated on the Australian Immigration Department Website: Giving false or misleading information to the Australian Government is a serious offence. If convicted, the maximum penalty is imprisonment for 12 months.
The Australia Travel Declaration is free and can be completed on the  mobile Australia Travel Declaration app or on the desktop ATD online form
Travellers coming into Australia would be required to show the Travel Declaration (either electronically or printed) before boarding the flight and on arrival in Australia. Please note the email confirmation letter could include a Green, Blue or Red response. These colours would define your eligibility to travel and Quarantine requirements on arrival 
Green Response (with a tick) indicates that the traveller is either quarantine-free or has a pre-approved home quarantine.
Blue Response (with an hourglass) – this means you need to quarantine on arrival
Red Response (with a cross), your airline will decide if you can travel. If you are allowed to travel to Australia, you will need to quarantine on arrival.
6. Check the arrangements in both their place of arrival and place of final destination, as quarantine requirements are different in each Australian state and territory. More information here 
 7. If you are a 🚨408 Visa Holder, please make sure to check your visa conditions before departing Australia, as many would not be allowed to return. 
If you have any questions, please feel free to contact us here or by emailing is on info@linas.com.a.