Scholarships for International Students In Australia
Get up to 50% scholarships available in the Vocational and the Higher Education sector. But wait  a second, that's not all!
If you have an immaculate academic record, you might be eligible for 75% to 100% Scholarship in the Higher Education Sector in Australia.  Yeah, you hear that right – 100% of tuitions fees covered. Are you eligible?
Contact us to find out what the eligibility criteria is and if you can apply today!
Are you thinking about PR pathways?
There are outstanding discounts for programs matching skilled occupations, so do not put your future on hold – Upskill yourself with courses leading to permanent residency  and secure a good  life in Australia.
I say YES to a Brighter Future, do you?
Get $500 OFF your first term tuition fees at the Australian Learning Group (ALG).
Make out the most of your experience in Australia. Explore new passions and develop your hobbies while pursuing a rewarding career in fitness, yoga, remedial massage, sports management, mental health and community work at the Australian Learning Group.
If you are bored of the 9 to 5 classes and are keen on spending more time outdoors, the Australian Learning Group is what you are looking for. You will never regret becoming ALG alumni with a remarkable professionalism and innovative courses.
Want to learn more about this offer, the courses available, and even how to these courses might boost your professional profile in Australia? Talk with one of our Education Consultants Today!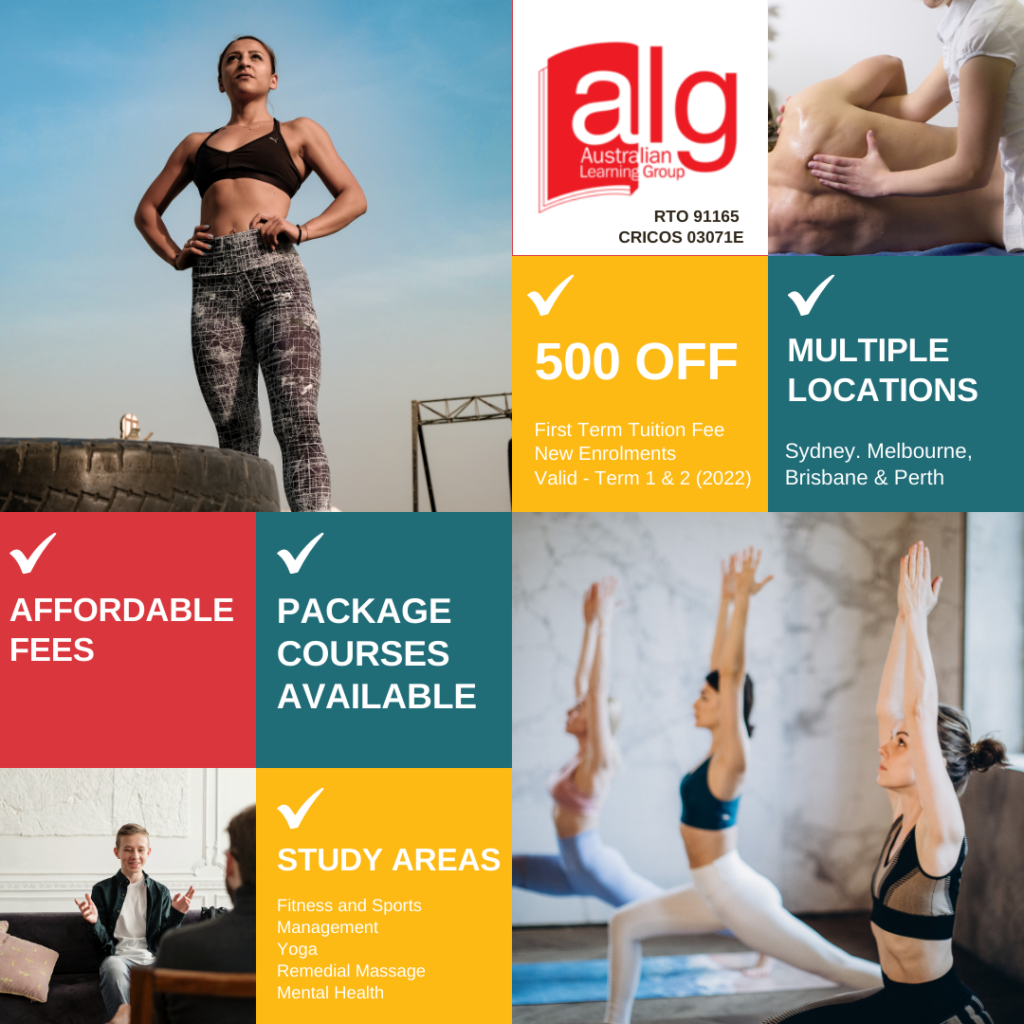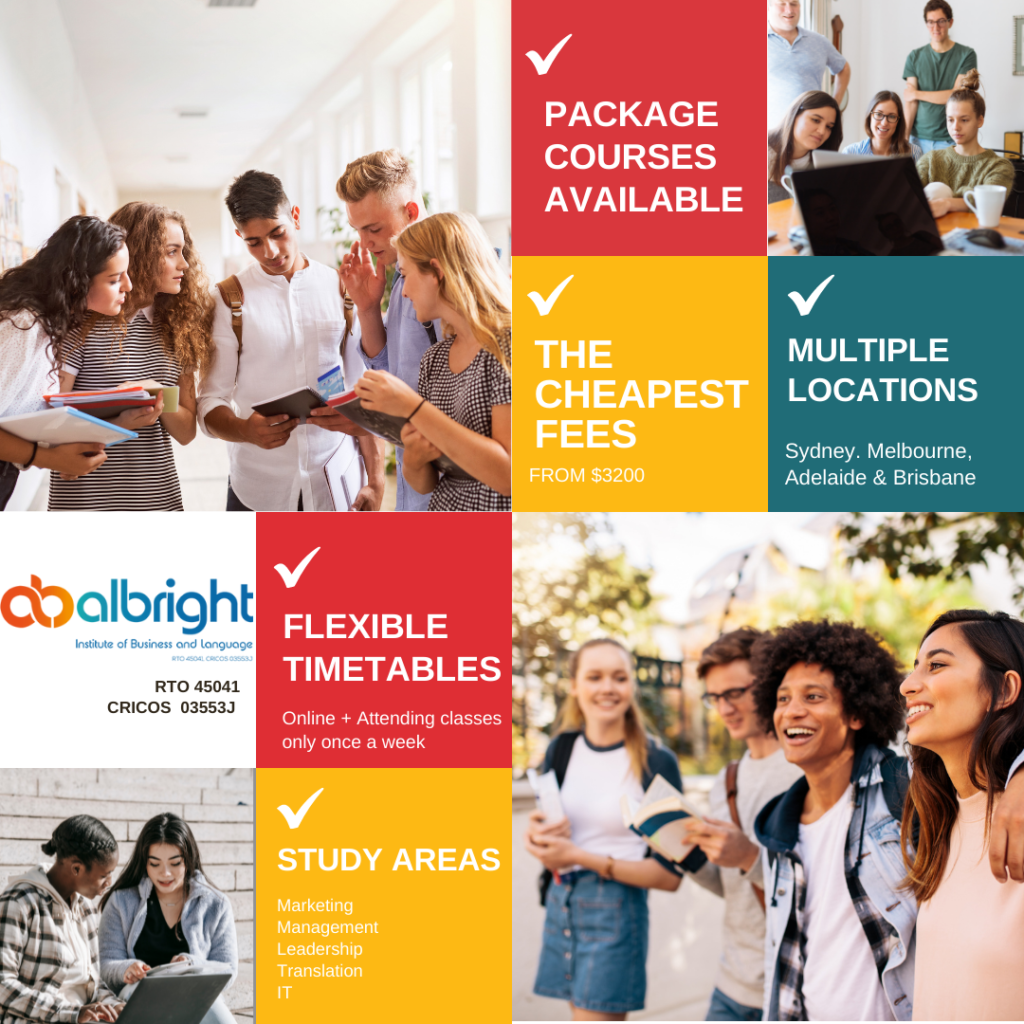 Albright Institute is what you need!
Do you want to Study affordable courses in Australia and still be accredited with world-class certificates? Albright Institute is what you need!
Albright is by far is one of the most flexible and convenient colleges in Australia. They have campuses in different locations, including Melbourne, Sydney, Adelaide and Brisbane. This brings students the opportunity to transfer their credits to catch up in the process of exploring and travelling the most adventurous Australian Side.
With a broad selection of courses, from certificates to graduate diplomas, you can easily pursue your dream of living, working and studying in Australia for just $4500 per year.

Book a free consultation to learn more about their courses and additional offers
Up to $2000 OFF Trade Courses.
We have excellent news for those after Carpentry Courses and other trade programs. There are $1000 – $2000AUD Scholarships for 2-year courses in the trade industry. This Scholarships are available for a limited time only and are subject to specific locations, including Sydney, Perth, Brisbane, and Adelaide.
Contact us today to hear more about the application processes and the providers this applies!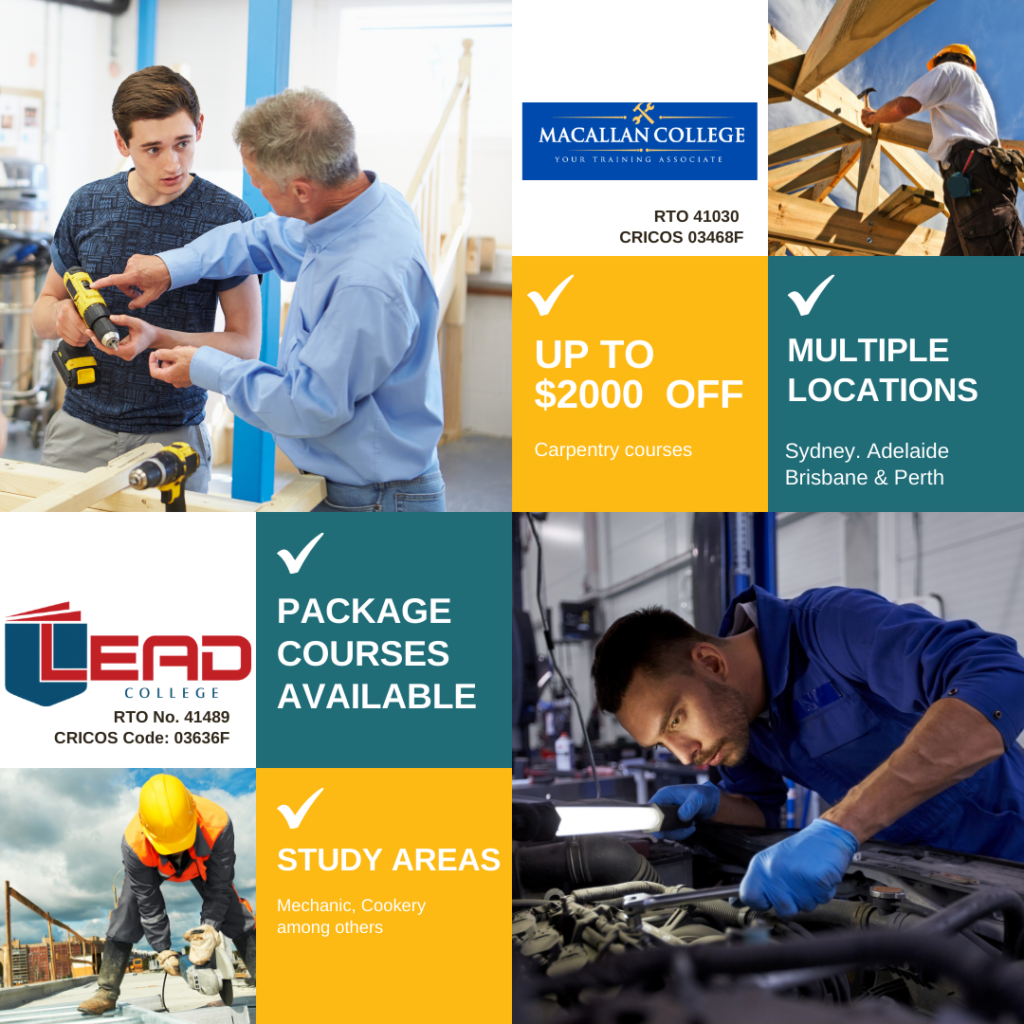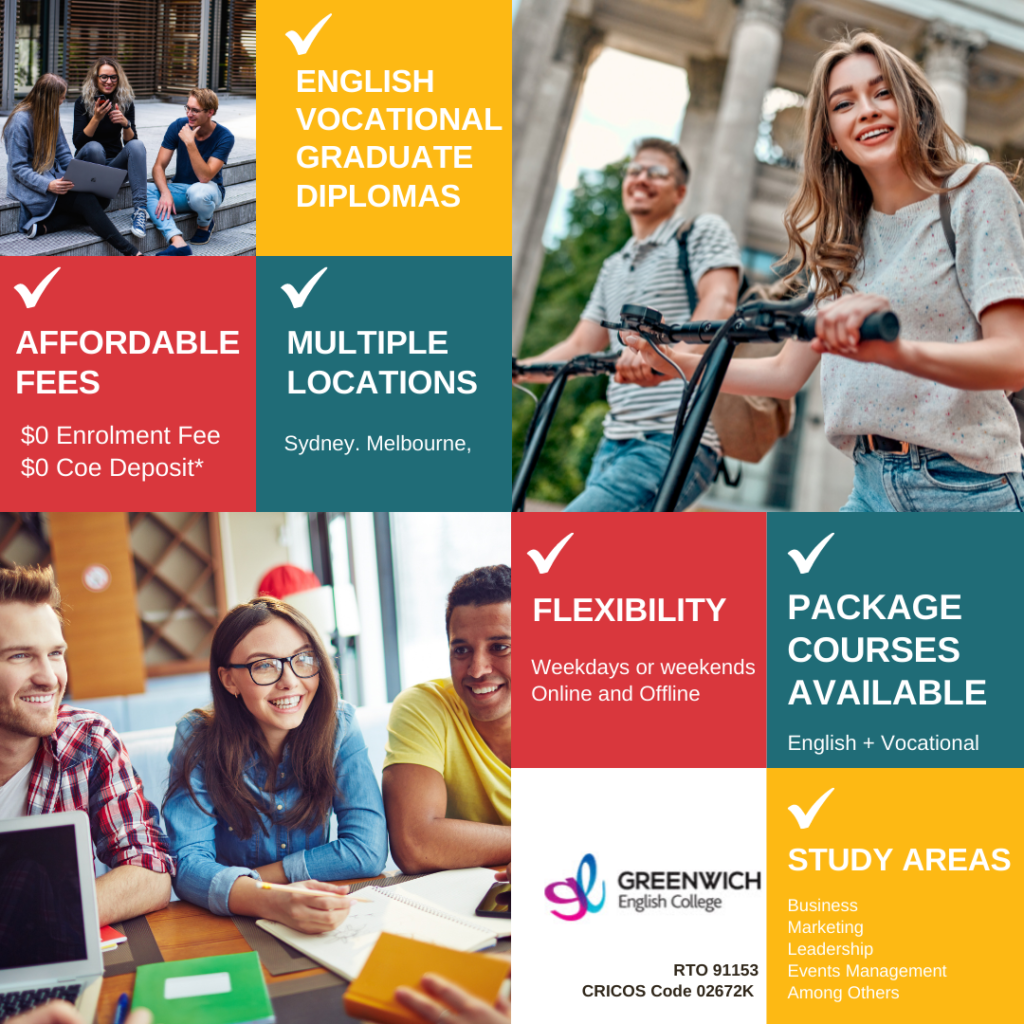 $0 enrolment fee $0 Coe Deposit until 30th of June 2022 for Onshore Students.
Take advantage of a challenging academic career and learn from industrial experts at Greenwich English and Business College.
Challenge yourself with a new academic and professional venture at very affordable student' prices. $0 enrolment fee $0 Coe Deposit for all new enrolments in Australia until 30th of June 2022.
Greenwich has courses from $850 per term. These values apply to all courses and timetables across campuses, Except for the Graduate Diplomas and students abroad.
Londsdale Institute celebrates the borders aperture with a Promo Special running until the end of the month. Avoid missing out on these discounted fares and pursue an exciting career in Business, management, marketing, leadership, among others.
Offers apply to all 6-months, 9- months and 12-month courses, being $2500, $3750 and $5000 their respective tuitions fees.
Explore your options at Lonsdale Institute and see if this match your long term goals in Australia. Talk with our Education Consultants!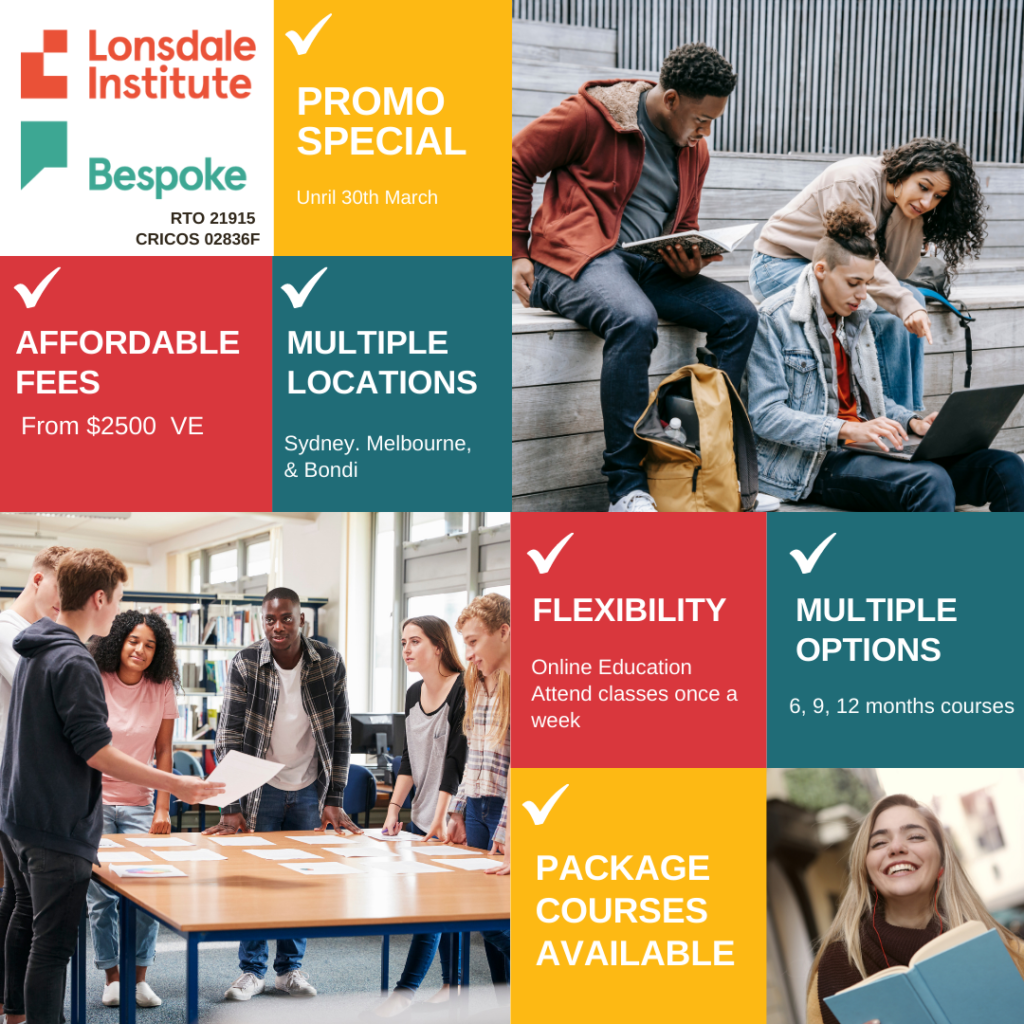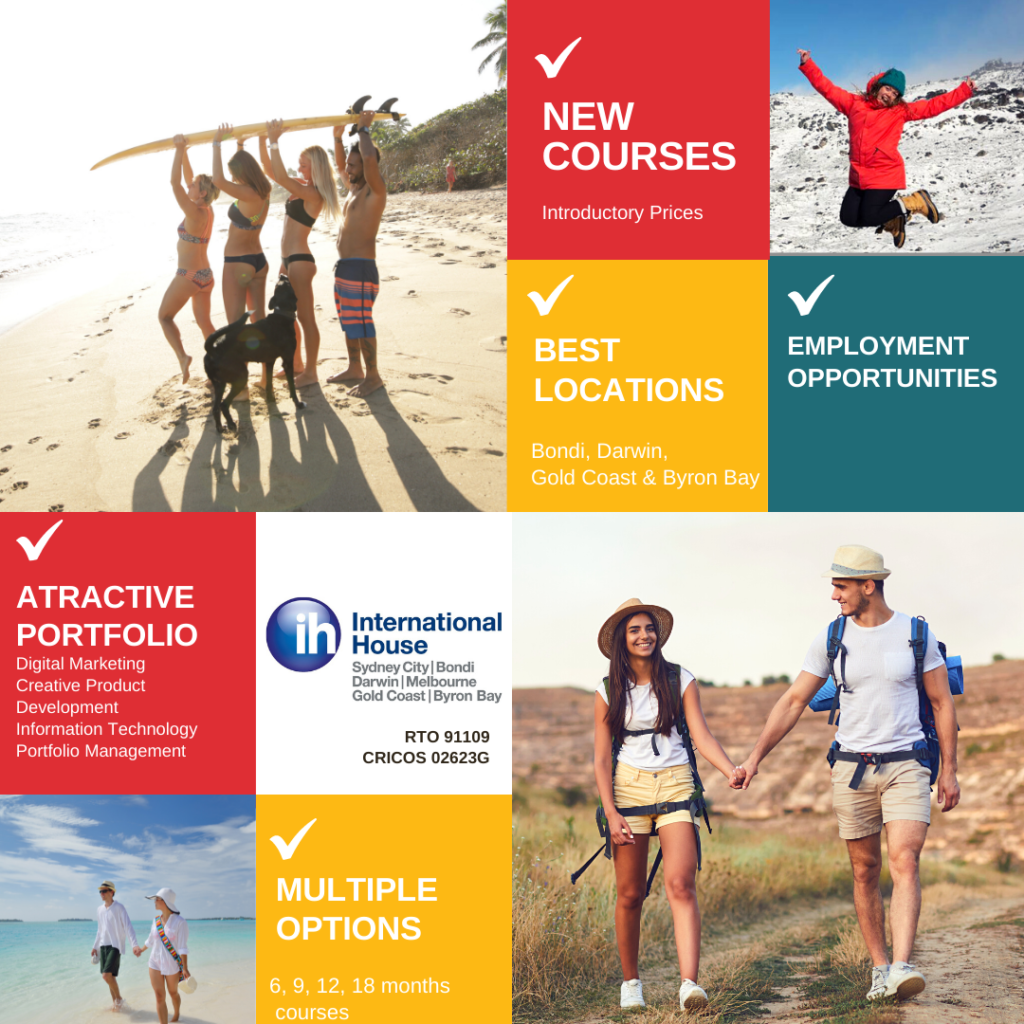 Boost your employment opportunities with the most competitive courses at International House
International House introduces new courses to meet the available employment opportunities in Australia. If you were unsure what to study and where to study, IH is your answer!

Their portfolio is not just what Australian employers are looking for in the market. Still, it is unique and, best of all, they are available at special introductory prices for limited-time only.
Courses available include Digital Marketing, Portfolio Management, Creative Product Development, IT , among others.
 Learn more about these and other courses available at IH by booking a Free consultations with our education Experts 
If you have been thinking about Higher Education Programs and still think they are costly. Why don't you book a consultation with us?
Our expertise would help you select the most suitable courses for you to meet your Financial requiremenys, but also your interest and long term goals in Australia. Not without mentioning the first-hand information you would receive about sponsorships and scholarships available with well-known Australian' higher education providers.
Torrens University, Kaplan, KOI, AIBI …. Up to 45% off Scholarships

Want to learn more about these or any other provider you are having in mind, chat with us today and make your way towards a brighter future in Australia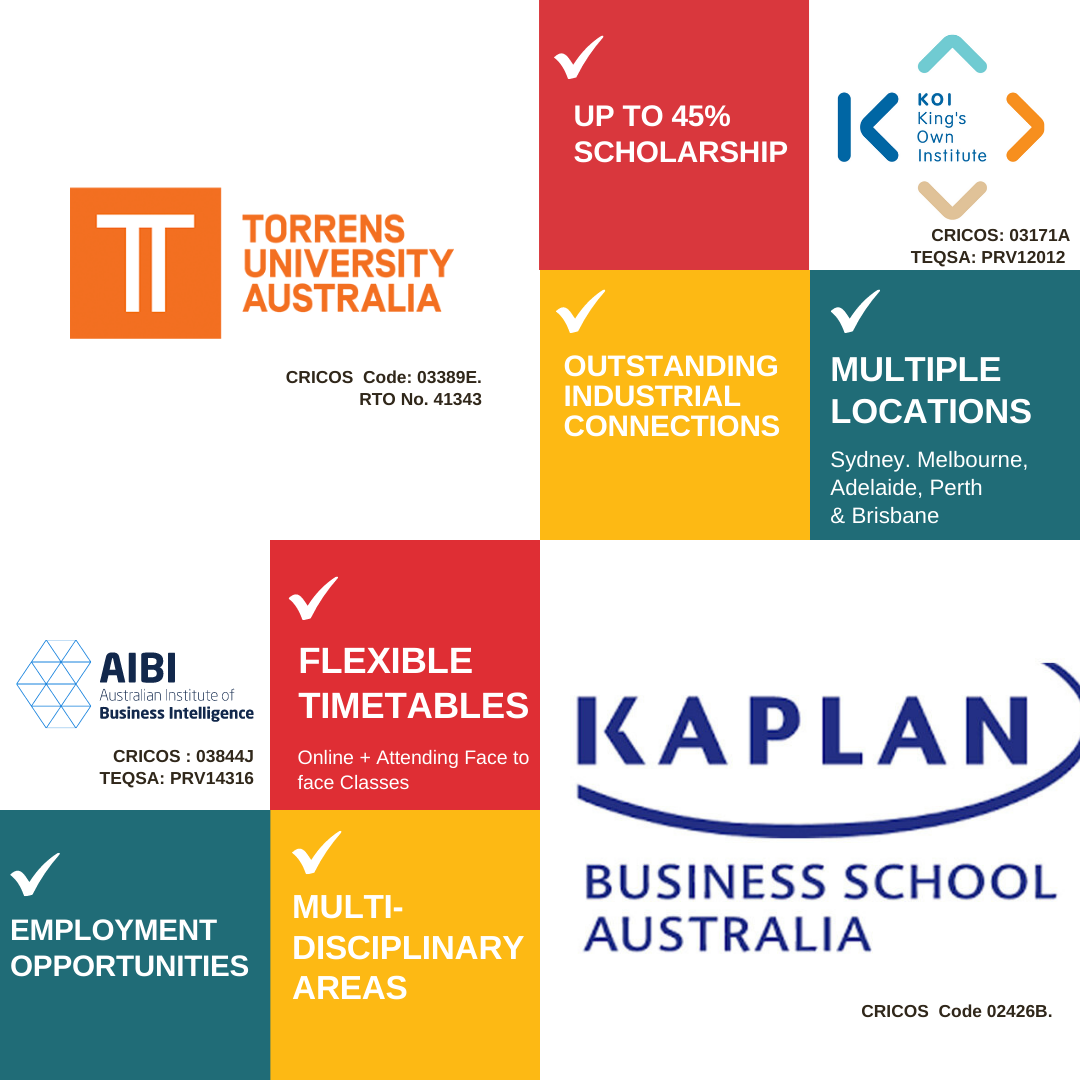 Contact us whenever you
have

questions